The World Community for Christian Meditation
A full rebrand for a Global Non-Profit
The World Community for Christian Meditation (WCCM) is a global non-profit with sub-communities in 150+ countries, representing roughly 200,000 members worldwide. Unfortunately, the visual identity had been developed piecemeal and haphazardly over decades. Due to the lack of clear brand guidelines the ever-growing number of sub-communities have been mutating the brand in dozens of directions, with no signs of slowing down. Our challenge was to overhaul the brand and create a flexible yet durable set of brand guidelines that would incentivise and facilitate adoption by the various nodes of the global community. 
Over the course of 3 months, we lead the WCCM through a series of branding workshops. After exploring the heart and soul of the brand, and developing a draft of the new visual identity, we shifted into a deep exploration of the myriad applications for brand. Finally, we produced a comprehensive guide, and an exhaustive library of assets to facilitate the rapid adoption by the global communities.
When all was said and done, our team produced over 1000 unique brand assets that represented one global brand, 75 sub-brands (for national communities) as well as 6 additional sub-brands for unique initiatives and programs. Within 1 month of publication, our new brand guidelines had already been adopted by each of the major countries, as well as all media channels of the parent brand.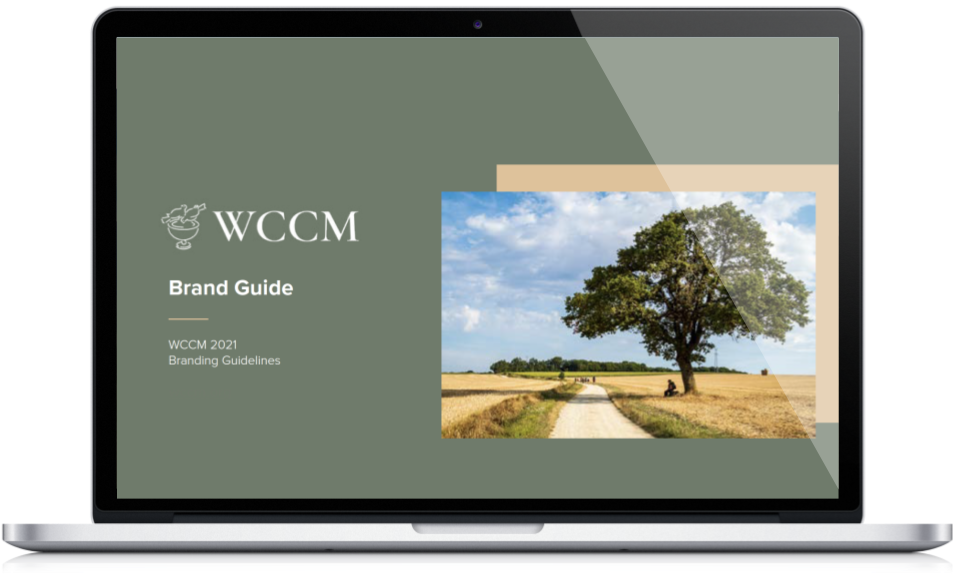 Something new, but not too new.
Despite the unfortunate use of the Arial typeface, and the misguided choice of color, the original WCCM logo was unexpectedly well liked by its audience. This unexpected success was due entirely to the symbolism contained in the logo mark. Our challenge was to create a new logo-wordmark combo that would retain the original symbolism but would also attract a newer and younger audience, all while evoking a contemplative and spiritual experience.
A Contemplative Color Palette
Typography:
Free, Flexible, Translatable
Parent Logos, Child Logos, a Whole Logo Family
Creating a new logo was only the start of our problems. THe next step was to create a durable and flexible logo system that could support an ever growing number of programs, publications, and initiatives… oh, and it would have to be translated into 27 different languages. Given the nature of these constraints, we decided to construct the logo system out of 3 freely available google fonts: Cormorant Garamond, Alegreya Sans, and Alegreya Sans SC.
LOGO FOR NATIONAL COMMUNITIES
National Communities Logos
With the parent and child logos out of the way, it was time to create the system for the "National Communities Logos". This consisted of 75 sub-logos that communicated a relationship with the parent brand, and which could be rendered both in English as well as the native language of the target community.
Business cards, letterhead, envelopes, cards, forms receipts, event flyers and t-shirts
To keep brand consistency throughout the WCCM marketing outlets, we created an entire library of easily editable social media podcast and post templates for Facebook, Instagram, Youtube and Vimeo. Included in our full library are also social profile images and banners for each application along with Instagram highlight icons. Posts are editable in a Canva account created specifically for their team members to be able to add current content to templates without knowledge of design applications.